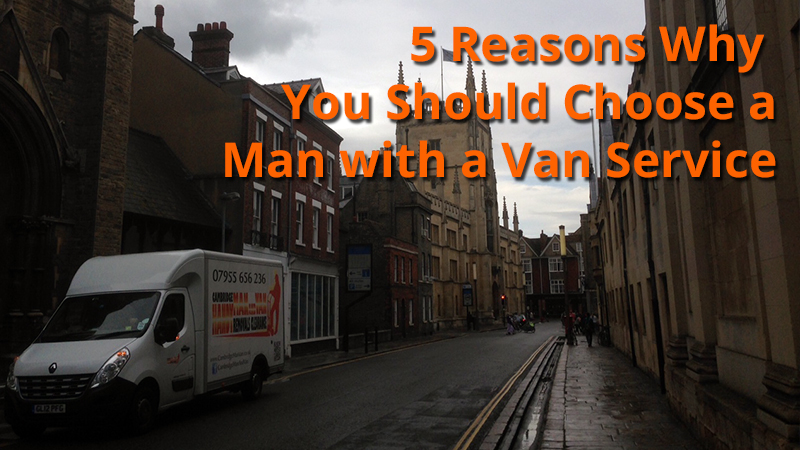 In this post we will give you 5 reasons why you should choose a man with a van service.
Benefits of Hiring a Cambridge Man with Van
Moving can be a stressful experience, but hiring a professional Cambridge man with van can make the process much smoother. Here are some of the benefits of hiring a Cambridge man with van for your next move:
Saves Time and Energy
When you hire a professional Cambridge man with van service, you won't have to worry about loading, and unloading your belongings. The movers will take care of everything for you, which will save you time and energy. This means you can focus on other aspects of your move.
Professionalism and Expertise
Cambridge man with van services have the experience and expertise to ensure that your belongings are moved safely and efficiently. They know how to pack fragile items, load the van properly, and transport your belongings without damage. Additionally, they are insured and licensed, which means that you won't have to worry about any liability issues.
Cost-Effective
Hiring a Cambridge man with van service can also be cost-effective. When you factor in the cost of renting a van, and taking time off work, it can be more expensive to move on your own. Professional movers can help by getting the job done quickly and efficiently.
Whether you are moving house, relocating to a new city or have rubbish you would like to remove, transport should be at the top of your list of priorities. With so many options available it can be difficult to decide on which type of service is suitable for you.
Large, national removals companies, self-drive van hire and man with a van services offer different levels of service with similarly varying costs.
Cost
Moving home or removing rubbish can quickly turn into an expensive endeavour. Man and van services are often smaller operations, have lower overheads and can provide a fantastic service regardless of your budget.
Versatility
Man and van services often provide more services than a traditional removals company. From house removals, house clearances, rubbish clearance, student relocation, office removals, collection and delivery to appliance removal and fitting and packing services, a man with a van service will usually carry out any job – big or small.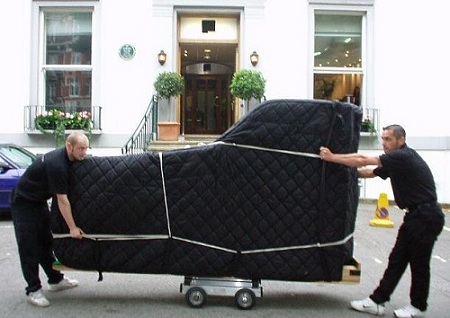 You get a man
It may seem obvious but an experienced removals and clearance man can make your move or rubbish clearance more efficient and hassle-free. You won't need to do any packing or lifting of heavy items or worry about picking up a van yourself (self-drive van hire), filling it with fuel and driving it down narrow roads or alleys. What's more, you won't have the stress of making sure you return the van on time or scratch it – both of which can hugely increase the cost of your move or clearance.
Personal, flexible service
What could be more personal than a man with a van? Man and van services can offer you a more personalised service than larger removals companies – they almost always work until late at night, at the weekends and on public holidays giving you way more flexibility. They can also be booked at very short notice to accommodate any emergency or last-minute move. An expert man with a van also knows his work inside out, is aware of your worries and concerns and his expertise can prevent you from getting into potentially awkward or expensive situations.
Ask for a free quote today
It's a good idea to get a free quote from several Cambridge man with van. Make sure your quote includes all the services you will need, such as loading, and unloading.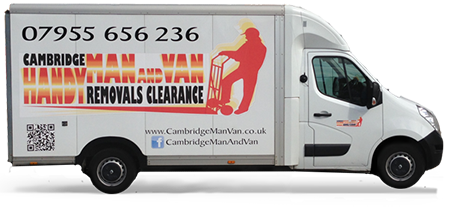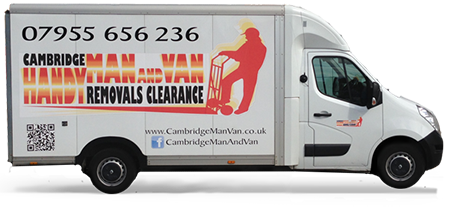 Local knowledge
Man with a van services are often local operations and know your city very well. They know about one-way systems, parking and height restrictions and the best way to avoid traffic jams during rush hours. This local knowledge results in a more efficient, stress-free move.
Are you looking for a Cambridge-based man with a van service? Contact us today to see how you can save money on home removals, house clearances, rubbish clearance, student relocation and business services.
Get your free, no obligation quote here.
Man & Van Cambridge
Moving to a new place is always an exciting adventure, but it can also be a daunting task. There are many steps involved in the moving process. That's where a Cambridge man with a van comes in handy. Hiring our professional services can make your move smoother and stress-free.
But with so many options out there, it can be hard to know where to start. Whether you're moving across town or across the country or just need some rubbish moving, Cambridge man with van has the services!